Edward C. Mohlenhoff, Associate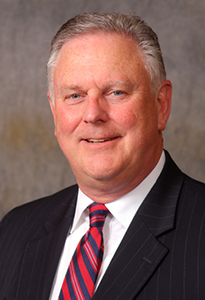 Edward C. Mohlenhoff was admitted to practice law in 1988, receiving his Juris Doctor from St. John's University School of Law in 1987. Ed comes to the firm with vast experience in the specialized field of Tax Certiorari and has practiced in some of the leading firms in New York State. Prior to joining the firm, he was a Senior Associate and Partner with two law firms in Nassau County that specialized in tax assessment litigation. Ed was also employed as a Deputy County Attorney for the Nassau County Attorney's Office from 1988 to 1992 before entering into private practice. Previous to law school, Ed worked for the Federal Reserve Bank of New York.
Ed is currently the President of Youngs Memorial Cemetery (burial site of President Theodore Roosevelt), board member of the Theodore Roosevelt Sanctuary & Audubon Center, board member of the Oyster Bay Community Foundation, Treasurer of the Life Enrichment Center of Oyster Bay, and on the state board of Audubon New York. His passion is for historic preservation and he has supported many local projects that have saved or preserved our local history of the North Shore of Long Island.
In addition to his many community contributions, he also served as past Chairperson of the Tax Certiorari and Condemnation Committee of the Nassau County Bar Association, past Board Member of the American Red Cross/Nassau County Chapter, past Board member of the Oyster Bay Main Street Association and past Co-Chair, Chair, and Organizer of the Annual Gala/Theodore Roosevelt Sanctuary & Audubon Center, at which the Audubon "Legacy of Conservation" award is presented each year.
Ed Mohlenhoff grew up in Oyster Bay Cove and East Norwich, attended the public schools and graduated from Oyster Bay High School. Ed went on to get his Bachelor's Degree in Economics from Columbia University. His deep family roots in Oyster Bay Cove instilled in Ed at an early age the importance of recognizing the history and heritage of the Oyster Bay area.
EMAIL: ecm@nytaxreview.com